Located in Pangkalan Kerinci, Riau, Indonesia,
Asia Pacific Rayon (APR) combines state-of-the-art production facilities with innovation and technological advances to ensure a sustainable production of viscose rayon.
APR produces 100% natural and biodegradable viscose rayon used in textile and personal hygiene products. Made from renewable wood cellulose, APR is committed to sustainable sourcing and efficient manufacturing, producing top quality products that address customer needs while touching the lives of the communities around our areas of operations.
Read More
Renewable
Fibre
Wood
Pulp
Viscose
Fibre
Textiles & disposable
hygiene products
Natural
Made from 100% wood cellulose, viscose rayon is a natural alternative to acrylic, polyester, nylon and other petroleum-based synthetic fabrics. The highly absorbent nature of cellulose fibre enables it to take dyes very well, bringing about rich and radiant colours without losing its natural lustre.
Renewable
Our wood fibre supply is sourced from sustainably managed plantations and forests. These trees are renewable resources which are harvested within 5 years for the next cycle of planting and harvesting, thus ensuring a constant supply of renewable raw materials.
Biodegradable
Consisting of natural plant-based polymers, viscose rayon is biodegradable and naturally decomposes into the soil.
Comfortable
Soft and breathable as cotton and smooth as silk, viscose rayon drapes beautifully, giving extra comfort and satisfaction to end users.
Sustainable viscose-rayon production to drive export growth while reducing import reliance of textile raw materials NEWS RELEASE JAKARTA, 29 March 2019 […]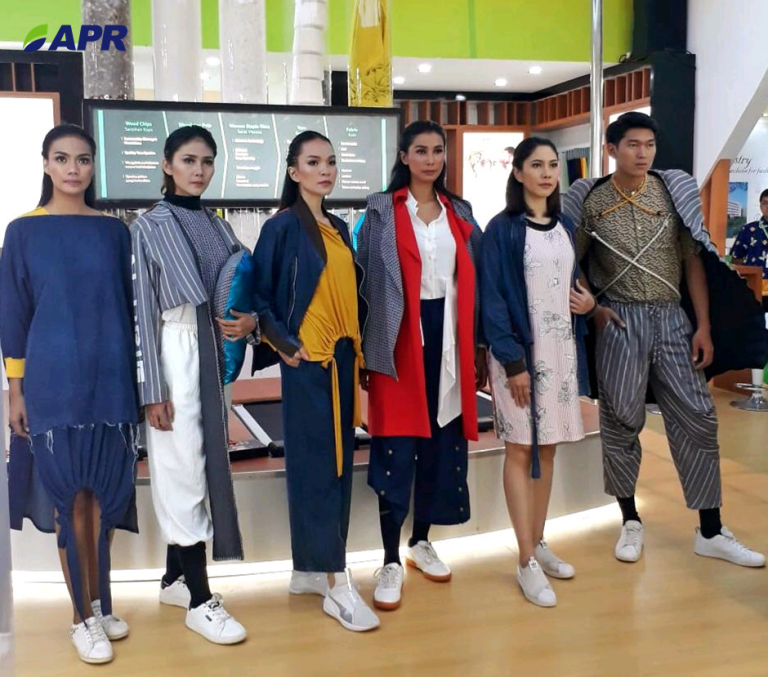 Designers showcase the export potential of viscose-rayon fashion NEWS RELEASE JAKARTA, 28 March 2019: The ability to transform viscose-rayon into […]
Its Pangkalan Kerinci-based mill is expected to be fully operational in early Q2 2019 NEWS RELEASE PANGKALAN KERINCI, RIAU, 14 […]
Textile Fibre
APR's viscose fibre make woven and knitted products seemingly weightless and extra comfortable. Its high absorbency nature gives a powerful dyeing effects, making the colours more vibrant and luxurious.
Read More